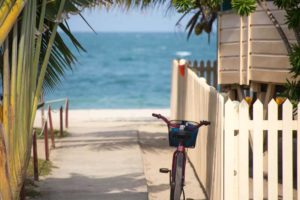 We are all learning to deal with the "new normal" that the Covid-19 pandemic has thrust upon us. Social distancing has changed the way we interact with our loved ones and colleagues, and the real estate industry is having to change the way it operates as well. With the help of technology and some creative thinking, the show is going on and deals continue to get done.
Here's what might you expect to find while buying or selling a home in Key West or the Lower Keys during the pandemic:
Virtual Tours have never been more essential. Learn a lot about a property from the comfort of your couch.
The National Association of REALTORS® has social distancing guidelines they recommend all agents follow including only one buyer in a home at a time with 6 feet between each guest.
Have everybody wash or disinfect their hands prior to any home showings and wear a mask at all times.
If possible, leave out the kids while viewing or showing a house.
Down payment assistance may have been temporarily suspended due the the current situation. Double check to learn how any assistance programs you may be depending on have been impacted.
Home inspectors are now working by themselves. The National Association of Certified Home Inspectors advises inspectors to use video or platforms like Facebook Live to record their inspection so that clients will have the ability to view what the inspector sees.
Temporary rules allow appraisals to be performed without an in-person visit. Learn more about temporary Covid-19 appraisal requirements here
Employment verification rules have been temporarily relaxed.
Notarization via webcam is now a thing.
Virtual walk-throughs are also a thing, though a buyer can still walk through a home on their own.
We are all still learning how to navigate the real estate market during this pandemic. To learn how this may impact your specific situation, contact Michael Sullivan of Key West Properties to discuss buying or selling your home during a pandemic.